---
Ljubljana Talks to focus on showcasing Ljubljana at IMEX
---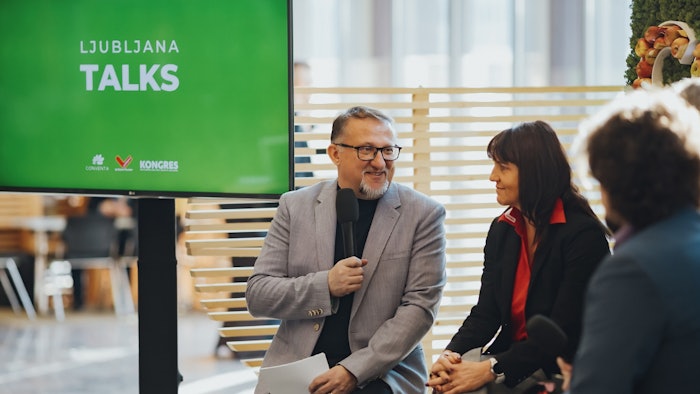 The latest edition of the hybrid talk show Ljubljana Talks is taking place at IMEX Frankfurt and features a lineup of 15 industry leaders hosted by Jan Orišič, head of the convention bureau at Ljubljana Tourism, and Gorazd Cad, editor in chief of Kongres Magazine.
Starting as a bi-monthly chat during the pandemic, Ljubljana Talks has become an industry event that has featured editions at events including IMEX and Conventa.
This week, industry visionaries are joining the co-hosts to talk about the future of the industry in Slovenia, Europe and around the world, including event evolution, sustainable development, incentive travel, growth strategies for associations and story-based leadership.
Attendees can participate either in-person or via the livestream on Kongres Magazine. by registering here.
The programme boasts an impressive lineup of renowned speakers, each offering unique insights and expertise including:
Event evolution: Where the industry stands and what's next (Steve O'Malley, Maritz)
Cracking the mind's code: How to achieve sustainable success (Christopher Salem, CRS Group Holdings)
Elevate your business to new horizons by hosting meetings, incentives and events at sea (Shawn M. Sayer and Karen Devine, 3D Cruise Partners)
CEE insights (Kadri Karu, Estonian Convention Bureau)
Crafting compelling narratives: The art of story-based leadership (Christopher Kai, The Mathem Group)
The human nature of kindness: Explore the hard science behind the soft skill (Janet Sperstad, CMP-Fellow, Madison College)
The future is bright: Incentive travel industry outlook (Annette Gregg, SITE)
Innovate to elevate: The game-changing power of the latest tech (Amy Kramer and Nick Fagan, DRP Group)
Growth strategies for associations through community creation in dynamic times (Brad Weaber and Bill McGlade, Weaber Consulting Group, LLC)
Harnessing the power of group singing for your business (Brian Allan, Rock Your Business)
How to attract attention (Janet Sperstad, CMP-Fellow, Madison College)
The art and science of designing experiences (Pigalle Tavakkoli, School of Experience Design)
>> kongres-magazine.eu
>> Stand B130