---
World's longest zipline opens in Oman
---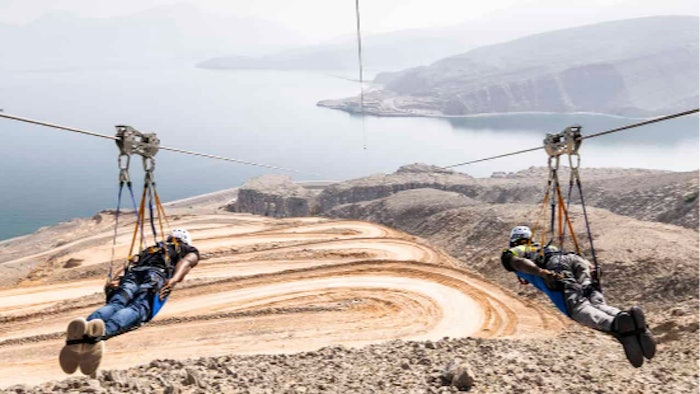 Opening earlier this year in the Omani exclave of Musandam, the world's longest overwater zipline stretches 1,800 metres from Jebel Fitt Mountain over the coast of the Wilayat of Khasab.
Certified by Guinness World Records, the double zipline is part of an integrated centre that combines adventure and exploration. The centre will soon feature new hiking trails and mountain biking routes.
Oman is also opening a new Botanic Garden in 2024. The first of its kind in the Arabian Peninsula, the garden will be located about 20 kilometres from Muscat International Airport and will feature more than 1,400 plant species from the natural landscapes of Oman.
In March 2023, Oman opened the Oman Across Ages Museum near the oasis town of Nizwa. The museum promises to take visitors on a journey through the Sultanate's past and present, and also offers a glimpse into its future. The 9,000-square-metre space creates an entertaining and educational museum experience, and features event spaces including a 1,200-square-metre multipurpose hall, 319-seat auditorium and a smart-screen-equipped Idea Lab with capacity for up to 50 people at a time.
Oman is investing in 360 projects through 2025 with the goal of expanding the nation's tourism and event hosting sectors. Projects include a dozen integrated tourism complexes, accommodation from prestigious international hotel brands, and work on heritage sites, forts and historical monuments.
>> experienceoman.om
>> Stand E620