---
Royal Scotsman offers all-encompassing experience
---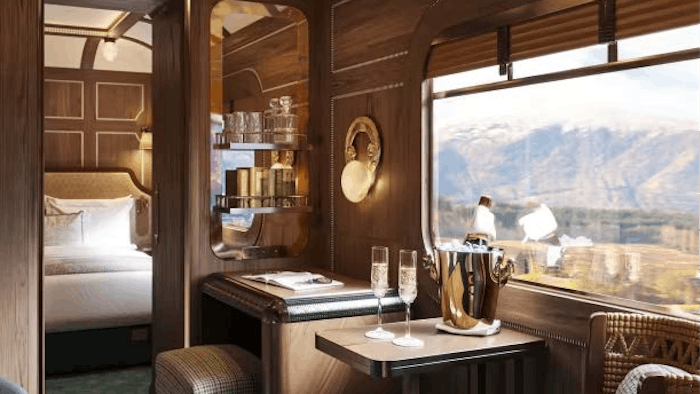 Royal Scotsman, a Belmond Train, announces the launch of two new Grand Suites set to join the rake in May 2024. Mirroring the look and feel of a luxury country house, the Grand Suites elevate the onboard experience by providing the ultimate setting for a cinematic Scottish escapade. The new suites will take the train's accommodation categories to four: grand suites, double, twin and single cabins.
The spacious grand suites brim with elegant references to Scottish culture and its outstanding natural beauty. Interiors take inspiration from the destination through the hues of green, grey, beige and blue used for the handcrafted wall-covering, upholstery and furniture, which reflect the tones of the surrounding landscape. Local materials such as stone and wood are used in the lavish ensuite bathrooms, while decorative patterns echo Edwardian flair, Pictish stones motifs and Celtic symbolism, all artfully designed by Tristan Auer.
Enveloping dark wooden wall panelling embellished with intricate marquetry form the backdrop for a double bed with embossed bedhead, dressing table with stool and Scottish larch dining table. Guests of the grand suites will also benefit from private transfers and a rejuvenating treatment in the train's moving spa – the only one of its kind in Europe.
>> belmond.com
>> Stand F560