---
Editor's Choice for maximising your Tuesday at IMEX
---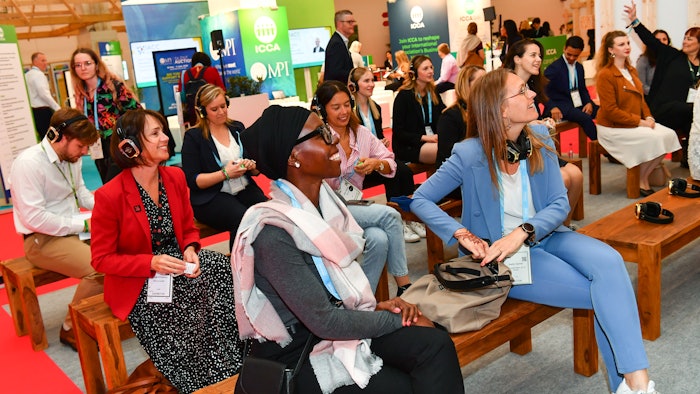 Today…
Set the tone for the day ahead with Amy Calvert, CEO, EIC; Sherrif Karamat, president, PCMA and CEMA; Senthil Gopinath, CEO, ICCA; Lyn Lewis-Smith, CEO, Business Events Sydney; and Robin Lokermann, group president, mci-group, as they debate the potential of the business events industry as a catalyst for global transformation in the Ocean room, Inspiration Hub, stand 9004, Hall 9, 10:00 to 10:45.
Experience the power of event automation with a live ChatGPT demo between 10:00 and 12:00 with Eventmaker, stand D770, Hall 8.
Mark Diversity Day in Germany by dropping into the GCB German Convention Bureau's Diversity Quiz n' Lunch between 13:00 and 14:00 at stand F100, Hall 8. Or head back to Hall 9 to find out if you really can have it all with Naomi Tucker, founder, Planners on Purpose, as she explores 'Career, life and beyond' from 13:00 to 13:30 in the Research Pod, stand 9008.
Staying on the personal development theme, take advantage of a valuable opportunity for one-to-one coaching by booking an appointment with psychotherapists Matt James and Dawn Ray at the Listening Lab, stand 9002, Hall 9.
Round off a fabulous first day of IMEX immersion looking out over Frankfurt's stunning skyline from the Galeria Skylounge roof terrace at cim-clubbing@IMEX.
Tomorrow…
Start the day with a social saunter, a gentle jog or a flat-out sprint for the finish at the IMEXrun along the banks of the river Main. By IMExrunning, you'll help sponsors Amsterdam Convention Bureau and Netherlands Board of Tourism and Conventions raise funds for Free to Run, supporting female empowerment through running. Enjoy a post-run stretch (for both body and mind) in the Be Well Lounge, Level 9, Hall 9.T, at 9:15.