---
Your Disneyland, our happy place
---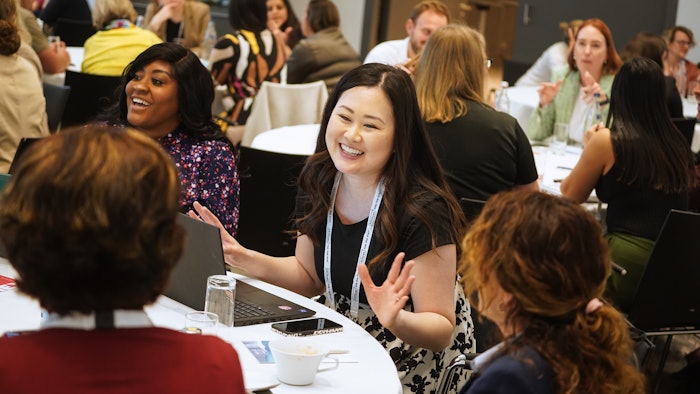 Hall 9 at IMEX Frankfurt became a treasure trove for inspiration, insight and fresh interactive learning concepts. It included the Inspiration Hub spanning the Ocean, Canyon and Forest rooms; Research Pod and Campfire spaces; the More Than Experience Theatre from DRPG and Maritz; the Encore Ideation Station; the Valley, powered by MPI and ICCA; and the Google Xi CoLabs at the IMEX-EIC People and Planet Village.
"You're my Disneyland."
Elizabeth Niehaus, executive officer, IELA 
Feel-good endorphins spilled out beyond Hall 9 into the bright Frankfurt sunshine for early morning finish-line celebrations at the IMEXrun (sponsored by Amsterdam Convention Bureau and the Netherlands Board of Tourism & Conventions), and to the all-for-a-good cause competitiveness of the Maritz Global Events Sustainability Challenge powered by Heka Health.
Led by our 2023 Talking Point, Human Nature, low carbon food menus, thoughtful signage, considered colour palettes and quiet, comfortable low-lit spaces were all incorporated into the show ­– a show designed with sustainability and purpose in mind, intended to ensure accessibility, inclusivity and higher standards of psychological safety and wellbeing.
Peaceful havens included Nook Pods dotted around the show and the serene Be Well Lounge (brought to you by Inner Sense and supported by Weichlein Tours and Costa Rica), with a rolling programme of Qi Gong, breathwork, stretching and meditation, providing respite and relaxation.
The IMEX-EIC People and Planet Village, AVoice4All (in association with Destination Toronto) and She Means Business programmes (brought to you by IMEX and tw magazine, supported by MPI) embodied positive change by delivering shared knowledge and understanding.
"If our industry can truly appreciate and leverage its power to create positive change for humanity, then we can change the world for the better."
Carina Bauer, CEO, IMEX Group