---
Tech tools and tips for 2022
Choosing the right fit for your event.
---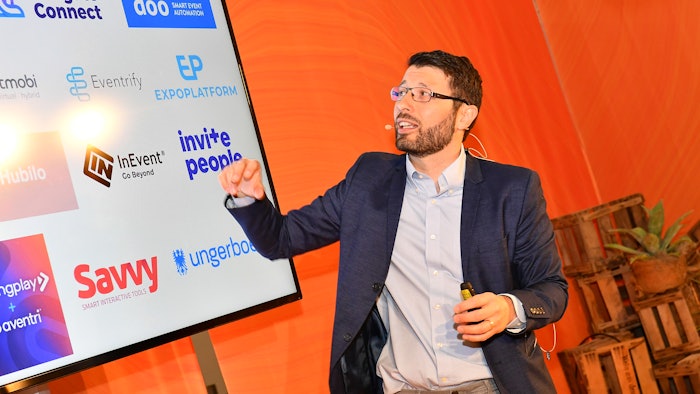 Speaking at the Inspiration Hub during IMEX in Frankfurt, Miguel Neves, Skift Meetings editor in chief, took his audience on a guided tour of the current event tech landscape. In The Ultimate Guide to Event Tech 2022, Neves explained that growth in the sector has shot up 1,000% since the pandemic.
"Yes, this is a busy and tricky space to manage right now," he said.
Before thinking about or approaching any tech companies, he urged: "You have to know what event tech can and can't do. And if anyone asks you if the perfect platform exists, it doesn't! The answer to which is the right company and tool for you to work with is: It depends on your concept. I strongly advise every planner to start with concept first, then process and then tools. You can get very lost if you think about tech too early in your experience design."
Neves went on to give a quick run-through of each of the 35 event tech exhibitors at the show, offering hints and tips on how to research company history and how to decide best fit. He reassured his audience that one of the early challenges of the pandemic – tech integration – was now largely solved.
"In the early days, very few of these tools were compatible. I'm pleased to say that most of them are now standardised and simple to integrate," he said.
Another learning from the pandemic, according to Neves, is that where your event tech supplier is located matters more than you think.
"Language, times zones and customer support are very important in this space," he said. "Don't underestimate this in your final decision."