---
ICCA and Sarawak Advocate Business Events Legacies Globally
Journal merges business events and legacy topics under one roof.
---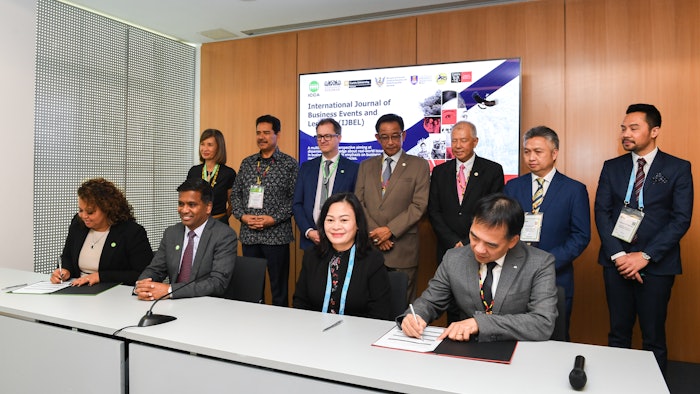 Business Events Sarawak (BESarawak) and International Congress and Convention Association (ICCA) have officiated their global collaboration on the International Journal of Business Events and Legacies (IJBEL) at IMEX in Frankfurt.
The IJBEL is the first journal in Southeast Asia to cover business events as a whole, and the first in the world to merge business events and legacy topics under one roof. Its objective is to widen the knowledge capacity of the global industry, ranging from practitioners and researchers to consumers and policymakers, by addressing real-world issues on business meetings, tourism and legacies.
Currently, there are 44 global advisors and expert editors from 15 countries in Europe, Asia, North America, Africa, the Middle East and Oceania. To add credibility, it is supported by industry players such as the Professional Convention Management Association (PCMA), The Iceberg, GainingEdge, Malaysia Convention and Exhibition Bureau and many more.
"The journal is beyond a learning tool, but a platform for every destination in the world to innovate, improve and inspire the sector," said The Honourable Dato Sri Abdul Karim Rahman Hamzah, Sarawak's minister of tourism, creative industries and performing arts.
"The ministry is serious about business events flourishing in Sarawak, hence the inclusion of this sector in the Post COVID-19 Development Strategy 2030, a 10-year policy by the Sarawak Government."
>> businesseventssarawak.com
>> Stand B200
>> Iccaworld.org
>> Stand E125 and stand 9.017