---
Rotterdam, city of climate-proof architecture
---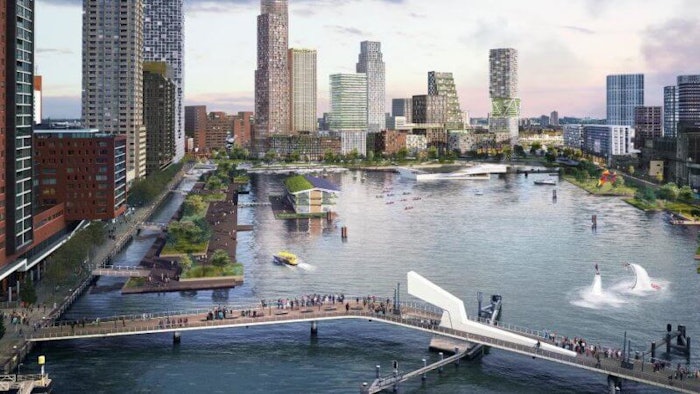 Rotterdam is known for its pioneering architecture and impressive skyline. As cities around the world struggle with the effects of climate change, eyes are focused on Rotterdam and the climate change adaptation projects being developed.
The city has plans to build Hofbogen Park on the roof of the longest building in Rotterdam. The railway line, where trains came and went for 100 years but which has been abandoned for the past 10, will become a lush, green 2-kilometre-long oasis. This route will be home to native plants, flowers, bees buzzing, hedgehogs scurrying about, people walking and children playing. The park is designed to provide maximum cooling and shelter, absorb CO2 and collect water.
Rotterdam is drastically improving its outdoor areas in seven different places in the city by investing in seven urban projects. Besides being green and welcoming, they have to become climate-proof: resistant to heat, drought and heavy rainfall. By consistently investing generously in innovation, Rotterdam is among the frontrunners in the field of climate change adaptation.
Architects, designers and scientists are working together to develop and test innovative ideas. For example, a group of idealists was given the key to the former tropical swimming paradise Tropicana to transform it into BlueCity, a model city for the circular (blue) economy. It offers workshops and laboratories to start-up companies that promote and practice sustainability.
>> en.rotterdampartners.nl/conventions-events
>> Stand E100