---
What a week that was!
IMEX in Frankfurt connected 9,300 suppliers and event professionals from around the globe.
---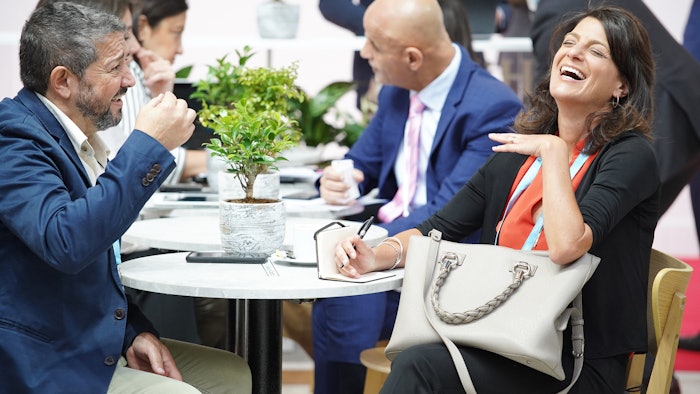 A week of celebrations, of reunions, of joy, of equal-parts exhilaration and exhaustion. Of new venue and route launches, brand reveals and inaugurations. Of contracts signed, deals done, connections made. Of new experiences, endless inspiration and expert insights. Our exuberant return to our home from home saw 9,300 suppliers and event professionals from the global business events community gather under Frankfurt's brilliant blue skies, making around 42,000 buyer-exhibitor appointments over three dynamic and delight-filled days.
"My kudos goes out to IMEX. We are walking out of here with 17 quotations for this year. One of these events is for Amazon for a group of 500 people for a one-day internal event in Brazil. What's interesting is that Brazilian buyers have come here to speak with us to do business in Brazil – this show is truly global."
Michael Nagy, director of sales of marketing, Fairmont Rio de Janeiro Copacabana
"Genuinely, we achieved more in two days than in two months going back and forth on emails. So, so helpful. We have a ton of follow up and some great new business. A great show."
Ed Poland, co-founder & COO, Hirespace, UK
"Firstly, it has been very useful to learn about Germany as a business events destination but it's also useful for me because the show has pretty much every destination on the planet that I need to meet."
Manuel Ferrero, CEO, International Slow Pitch Football, USA
"A big highlight was announcing our new brand to the media and we've had a fantastic response. Our meetings have been top quality. The enquiries we are getting are real enquiries for the destination – everyone has come to us with a mission. We've had a lot of interest from Europe, but also further afield, such as Brazil. Buyers are looking for something different in the Middle East and are attracted to our Arabian hospitality, culture, heritage and authenticity."
Debbie Kristiansen, general manager, Exhibition World Bahrain
The palpable delight in sharing stories, in being back together, in joining in, defined the week's 150-plus education sessions and activities. Whether enjoying the early morning sunshine, gorgeous river-bridge views and runners' highs on the IMEXrun (plus coffee, pastries and pizza!), taking part in the She Means Business programme or finding out what it means to be truly heard at our new Listening Lab; the overwhelming feeling of belonging, of feeling you were exactly where you needed to be, was irrepressible.
"It's clearly been a great week for our global industry. The show was imbued with a sense of camaraderie and celebration, and it felt so good to be back together – that's the feeling our industry thrives on and is motivated by. We've heard about some huge contracts being signed and masses of business deals being done. All the indicators suggest that 2023 and 2024 are going to be very good years for our industry. We can't deny the challenges of a new business reality, however planners are resourceful and adaptable by nature. There's a strong determination to rebuild, but on new foundations. The future looks bright."
Carina Bauer, CEO, IMEX Group