---
Editor's choice for surrounding yourself with education and inspiration
Sprinkle these highlights throughout your day of work and play.
---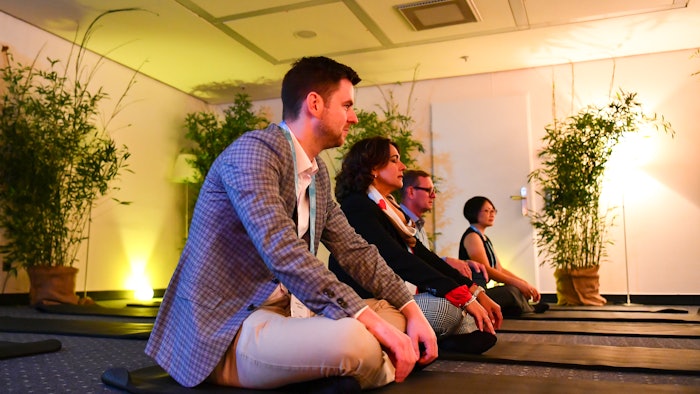 Today
Wednesday at IMEX means schedules packed full of appointments and networking opportunities but if you do happen to find yourself with a moment to spare, here's our editor's choice.
Start IMEX fresh and relaxed with some simple strength and breathing exercises in the Be Well Lounge, 9.T, Hall 9 from 09:00 to 09:30 – brought to you by Inner Sense and supported by Weichlein Tours and Costa Rica DMC.
Enter the metaverse with West Peek's Scooter Taylor and Trevon Hill in the forest at the Inspiration Hub, Hall 9, from 13:00 to 13:30.
As the IMEX day draws to a close, stop by Japan stand B350 for soothing live koto music and a refreshing green tea from 16:30 to 17:30, and then celebrate IMEX's 20th anniversary with a green cocktail at Messe Frankfurt's Happy Birthday IMEX Hour from 17:00 to 18:00. The green cocktail might be a healthy green smoothie, but we suspect not!
Post-show, it's time to don your dancing shoes and head out to the Sheraton Frankfurt Airport Hotel for the IMEX Gala Dinner and Awards. Pick up your ticket from Cvent stand C470.
Tomorrow
Thursday is your last chance to take part in the Maritz Global Events Sustainability Challenge powered by Heka Health – exercise mind and body as you learn all that IMEX is doing to advance event sustainability. Plus, there are some fantastic prizes to be won!