---
Supercharge your skill set for the changing event landscape
Make time in your schedule for these carefully curated learning sessions.
---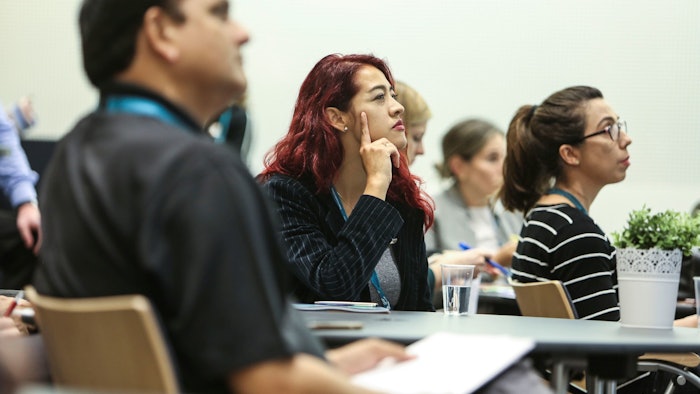 Running throughout IMEX week is our programme of 150-plus learning sessions, carefully curated to help you understand the changing event landscape, and supercharge your essential skill set.
The Listening Collective's Dawn Wray and Matt James invite you to step into the brand-new Listening Lab. Coaches, psychotherapists and listeners, they'll show you why listening is a superpower, how to listen to yourself and others – and how to be really heard. And founder of Psyched Magazine and the global human connection movement, Sidewalk Talk, Traci Ruble explains how to master the dance of good listening and connected speaking. 
Called "one of Europe's leading business networking strategists" by the Financial Times, speaker, author and professional relationships mentor, Andy Lopata leads a panel exploring the vital role strong relationships played during the pandemic, and the role they'll continue to play as the events world comes back to life.
As part of the She Means Business programme, brought to you by IMEX and tw magazine, and supported by MPI, a panel of speakers including Christian Woronka, Vienna Convention Bureau, Jessie States, MPI, Tanja Auernhamer, bvik, Ulrike Tondorf, Bayer AG and Juliette Wangalachi, Solar Promotion GmbH come together to discuss the reversal of years of gains in employment, salary and job security for women and minority professionals created by the pandemic – the impact this will have, and our role as the business events community in turning this around.
Co-founder of West Peek Productions, Trévon Hill, explores the change technology has had on the event landscape – from in-person to virtual and into the metaverse. And Michael Dominguez, President & CEO, ALHI, develops your understanding of behavioural changes in the event industry, risk management, duty of care – and the need to be decisively indecisive.