---
Exhibition World Bahrain announced at IMEX
---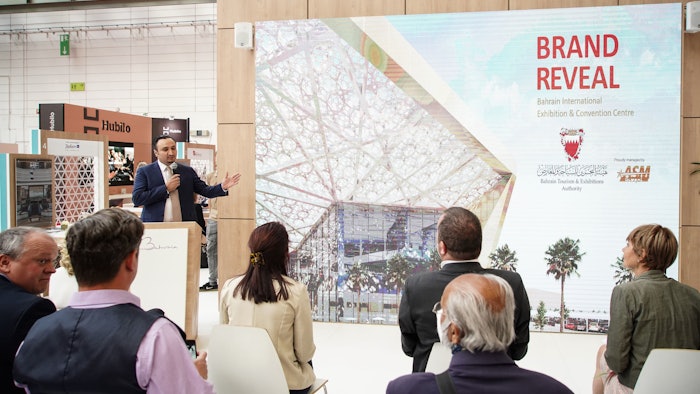 Opening in late 2022, Exhibition World Bahrain is set to become the catalyst for economic growth, socio-development and job creation, generating a long-term legacy for the Kingdom of Bahrain.
The newly unveiled brand identity captures the essence of the Bahrani spirit and warm Arabic hospitality, accentuated by the use of the colours of the national flag, and reflects a space designed to connect, share ideas and create memorable experiences.
According to Dr. Nasser Qaedi, CEO of Bahrain Tourism & Exhibitions Authority (BTEA), the brand identity of the new Exhibition World Bahrain in Sakhir, which is set to become the largest exhibition and convention centre in the Global Cooperation Council (GCC) region, is a key element in the authority's work to promote it regionally and internationally.
"This exceptional achievement is planned to attract business tourism in the region and is considered a key pillar in implementing the ambitious objectives of Bahrain Tourism Strategy 2022 to 2026," Dr. Qaedi said.
With 95,000 square metres of exhibition space, a Grand Hall with seating capacity of 400-4,000, 95 meeting rooms, 14 organiser offices, three Majlis, supported by 25 restaurants, cafes and retail outlets, Exhibition World Bahrain will be the place to meet, connect and shine together.
>> btea.bh
>> Stand D680