---
Transcend Cruises brings sustainable luxury to the water
---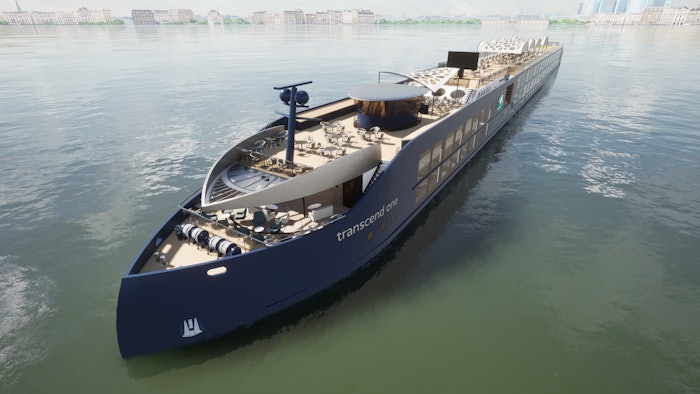 Transcend Cruises, a new global company and concept in river cruising, will fill a void in the river cruise market with a business model uniquely customised for group travel.
Through a purpose-built fleet of wellness-enabling luxury river cruise ships, and an innovative service model designed for multi-day tours, meetings and events, the company custom crafts experiences for each client. It will welcome corporate meeting and incentive planners, tour operators, affinity/alumni groups, private family groups, lifestyle brands, third-party agencies and other companies marketing trips under their own brand.
"Transcend Cruises was born because the complex needs of charterers are incompatible with the existing river options," said Matthew Shollar, CEO and co-founder of Transcend Cruises. "I have long experienced – first-hand and repeatedly – how existing river cruise lines had not been designed to prioritise the needs of groups. Similar experiences were shared with our founding team and by many travel organisers, up to and through the pandemic."
Transcend Cruises' 135-metre ships will have an industry-high guest-to-team member ratio with 30 to 60 percent fewer guests onboard than current retail-focused European river cruise lines. Up to 120 guests can be accommodated in oversized staterooms, or up to 60 guests can be accommodated in two-room, two-bath suites. A distinctive, convertible design allows for a configuration of all staterooms, all suites or any combination of the two on each sailing. The ships will have five separate venues that accommodate all guests, as well as intimate settings for events, dining, presentations and breakouts.
>> transcend.cruises
>> Stand F335