---
Igniting the senses at W Abu Dhabi - Yas Island
---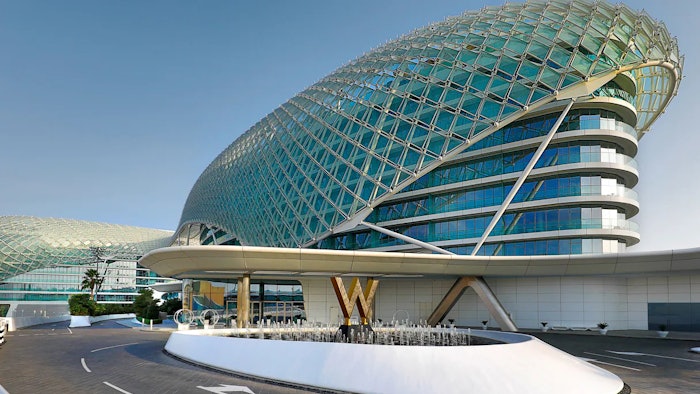 W Hotels Worldwide, part of Marriott International Inc., has announced the debut of the W brand in the UAE capital with the opening of W Abu Dhabi - Yas Island. Situated in the heart of Abu Dhabi's bustling entertainment epicentre, it is the only hotel in the world set atop a Grand Prix racetrack. Set to galvanise the island with its innovative design and pulsating energy, this architectural marvel sits between the racetrack and local marina.
"W Hotels seeks dynamic destinations that are multi-dimensional and ever-evolving, and Abu Dhabi, with its cultural DNA that honours a millennium of tradition while boldly embracing what's new and next, is an ideal fit for the brand," said Anthony Ingham, global brand leader, W Hotels Worldwide. "The arrival of W in Abu Dhabi marks a new chapter for both the brand and the capital."
Guests are greeted by Bedouin-inspired tents, large columns and seating inspired by local mangroves. Custom-designed welcome desks mimic the form of oil droplets and jewel tone furnishings, depicting the colours of liquid gold, a distinctive historic trade in Abu Dhabi. The hotel's vibrant 499 guest rooms and suites offer plush amenities and floor-to-ceiling windows with spectacular views of the Grand Prix racetrack or the Yas Marina.
>> marriott.com
>> Stand C550